by Jean Michel Hoffman


Part 7:
Other Popular Epics
The most well-known Vedic tales today are the epics Mahabharata and Ramayana, both of which have received numerous film, theatre and literary adaptations in India in the past 100 years.
The most acclaimed Western adaptation of the Vedic material was the 1985 theatre production by the British director Peter Brook. His 9-hour French-language version
le Mahabharata
premiered in Avignon, France in a limestone quarry, began during the evening and concluded at sunrise the next morning. The play travelled across the world and turned into a
film
4 years later.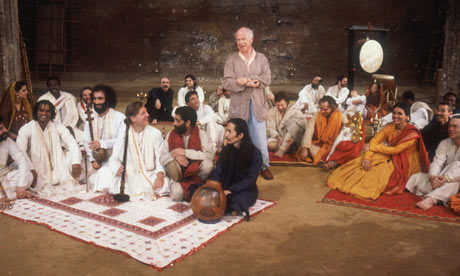 Bollywood, India's Hollywood, regularly produces adaptations of these great epics, which also appear as children's films, television series and video games. You can watch the entire 1988 Hindi series
Mahabharat Stories
(139 episodes), and an animated Japanese-India animated version of the
Ramayana
on Youtube, and many other versions are available on other platforms.
Within the complex narrative of the Mahabharata, just before the climax of a war between two armies, the hero Arjuna is daunted by the task of fighting and killing his former allies and friends. Arjuna asks Krishna, who is serving as his chariot driver, why he must fight, how he must deal with the pain of living, and what is the true meaning of existence. Krishna's profound response and their discourse is called the
Bhagavad-gita
, and is considered the distilled and pure nectar of all the Vedic teachings.
Japanese anime and mangas have the Vedas in their DNA, specifically Dragonball Z and Naruto, whose characters are based on various Vedic gods down to the name (Indra, the Vedic god of heaven, and Asura, meaning demon, are both characters in Naruto). While these stories do not contain many the spiritual teachings of the Vedas, and contain mostly the violent elements of warfare from the Vedic literature, they are an example of how the Vedic worldview is nearer to us than commonly supposed.
Further Reading:
What do The Matrix, Avatar, Groundhog Day, and Star Wars have to do with Hinduism? A lot more than you might think
---